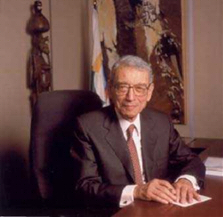 Former U.N. Secretary General
Boutros Boutros-Ghali
The United Nations Economic and Social Council, which is the main institution of United Nations (ECOSOC), has certified DEVNET as a Category 1 (rank), to operate as a NPO/NGO organization. It was founded in 1986 in Rome, Italy through the efforts of founder Mr. Robert Savio and Mr. Boutros Boutros-Ghali who was the Secretary-General at the time. It is a global information network system of technology, economy and trade with the aim of promoting exchange and economic cooperation between developing countries and between developed countries. DEVNET aims to promote a better quality of life for people in the world, and the main objective is to provide access to the necessary "knowledge", "real-experience" and "investment funds." Currently, throughout the world of 166 countries, about 1.5 million companies take advantage of our structured organization. To better the lives of people in the world we continually strive to create a better way of life, by providing access to "knowledge", "real-experience" and "capital funds." After the assessment of the information and technology that we intend to introduce, we are able to begin the search for investors for our organization. We are constantly looking for new-users of these technologies to support commercialization and industrialization.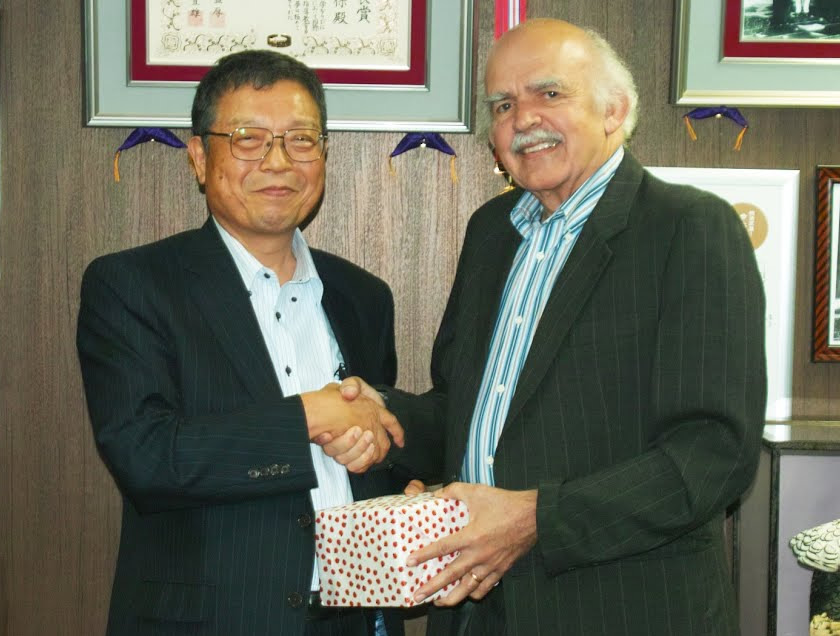 CEO Akegawa(left) shaking hands with Devnet International CEO Arsenio Rodriquez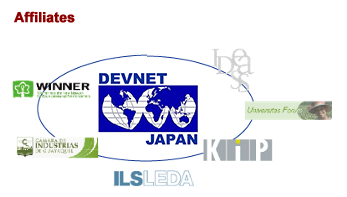 Greeting
My relation with DEVNET. I was appointed as the Asia-Pacific Special Goodwill Ambassador of DEVNET in 2006. At the 2010 Shanghai Expo, as a special advisor to the DEVNET Hall, we got a lot of attention with exhibitions of Japanese Imperial Classified items and eight contemporary Ukiyo-e Prints "The Tale of Genji" at one of the expo's pavilion. I remember the feeling of possibility from the first time that the Imperial Certified items were exhibited overseas and it was the first time that NGOs and private organizations could collaborate through activities for the United Nations and DEVNET.
I was authorized officially as Devnet International from the Rome headquarters to operate as the Japanese branch, and founded DEVNET Tokyo. We invited prominent people from various fields as directors and councilors, we welcomed experts from various fields both domestically and internationally as advisors on our new journey. We actively pursue the basic philosophies and activities of DEVNET based on the themes of promoting small businesses, supporting female business practices, developing a sustainable agricultural industry, and promoting sustainable urban developments.
Japan has made tremendous economic growth from the postwar reconstruction by becoming a technological superpower in the world. I am convinced that it is possible to create a new society on a global scale if we share "Japan's intellectual property" that has supported its own countries and people that are still developing. Concrete planning and specific activities will be set in the future but we will work with courage and knowledge to build an industrial model suitable for the global environment through business collaboration among entrepreneurs around the world.
April 1, 2013
General Foundation DEVNET JAPAN
Representative Director Fumiyasu Akegawa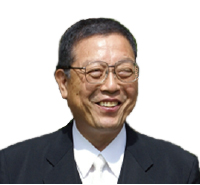 Fumiyasu Akegawa
Career Summary
1966
- Received a grant award from the Japan Industry Education Promotion Organization Committee (Imperial commendation for human resources who are responsible for the future of Japanese industrial economy)
1973
- Yamaguchi Prefecture, opened a comprehensive distribution center for 3 temperature zones equipped with Japan's first freezing-refrigerated warehouse and ordinary warehouse in Hofu city, it is the culmination of cold chain logistics.
Shinsuke Kishi 56th and 57th Prime Minister Assistance Committee Inauguration Chairman of the Youth Division
1983- Former House of Representatives Shintaro Abe Private Special Secretary and Messenger
1987
- Yamaguchi University Faculty of Economics Department of Economics appointed Official Seminar Lecturer
1988- From Kyushu Yamaguchi Economic Federation, appointed to the International Exchange Commissioner, the Transport Communication Commissioner, the Agriculture, Forestry and Fisheries Commissioner
2004
- House of Councilor Keishiro Fukushima Special Advisor to the National Support Area Headquarters ・ Inauguration of Special Secretary
2006
- United Nations (UN) Certified Nonprofit Non-Government Organization DEVNET Asia-Pacific Regional Special Goodwill Ambassador and Inaugurated (Laos, Cambodia and Vietnam District)
2009
- Higashikunomiya Memorial Committee Executive Council Executive and Culture Prize Promotion Executive Committee Executive Culture Awards Ceremony at the Tokyo Meiji Memorial Hall / Shanghai Expo "DEVNET Hall" Special Advisor Inaugurated
2011
- Higashikunomiya Cultural Revival Memorial Committee was established and assumed office as Representative Director. Participated as the representative of Japan at the 2nd Beijing Expo and NPC People's Forum
2012
- International Opportunities Association Institute, office as Representative Director
2013
- Devnet International received approval as a national branch in Japan, founded the general foundation DEVNET Tokyo and assumed office as Representative Director
2015
- Exhibited at Milan Expo. Renamed DEVNET Tokyo to DEVNET JAPAN
2016
- DEVNET JAPAN certified as a representative office in Asia (excluding some areas)
Global NetWork
*Rome Head Office
Devnet International Via Nazionale, 40 - 00184
- Official Website -



*JAPAN Branch
DEVNET JAPAN
General Foundation
6-4-3 Shimbashi Minatoku Tokyo, Japan (105-0004)
Phone :
+81-3-5733-5895 
Fax :
+81-3-5733-5898

Annoucement
English pages are now under translation process.

February 25th, 2017